WELCOME
My name is AntiStatiK, I am a french electronic artist
from

-[ Rond Croix Triangle Carre ]- ,
a digital clan based in Nantes, in the west coast of France.

Since 1998, my music explores the universe breakcore & lowbreak.
"Break to rebuild"
so break da beat with ur head...the beat or anything else !!!
good trip in my playground
enjoy ;)
LAST RELEASED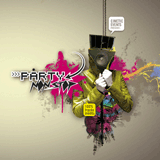 Composed exclusively of new titles,
the compilation "Party Non Stop"
produced by Cinetic , gather 12 artists who represent the best their last parties!
My track is called "Escape" and is in the pure antistatik style of lowbreakcore music!

With also:
Crystal Distortion, Rokette, 703 aka rom, Temptation aka Gelstat, Coq porn, Rimshot (Interlope), Dragongaz (Interlope), Zôl, Double Face, Signal électrique, Stalker and Z7.